When you turn on Web & App Activity and search on Google, Google saves the activity, such as your search history, to your Google Account, You can view your Google Web & App and Maps, YouTube activity by going to the 'My Google Activity' page of your Google Account.
Web & App Activity saves a data history about what you do across Google services, including associated information like locations, in your account to further personalize your experience,
Go to your Google account settings and access your Google activity and view your Google search history, individual items, or delete your entire Google activity history, You can take steps to Delete Google History that Google collects from your account by limiting the information you share with Google.
My Google Activity Delete
My Google Activity is the activity on Google that includes your searches, maps, watching YouTube videos, and your interactions with other Google services, My Activity includes things like your search queries, websites you visit, videos you watch, and places you search on maps.
Google uses the data it collects from your search history to provide you with options related to what you want to watch online, Google uses this information to improve your experience and improve its services.
You can browse in incognito mode to prevent Google from remembering your activity You can change your privacy settings to limit search history information, The "Pause" option can be used to prevent Google from temporarily collecting your activity data.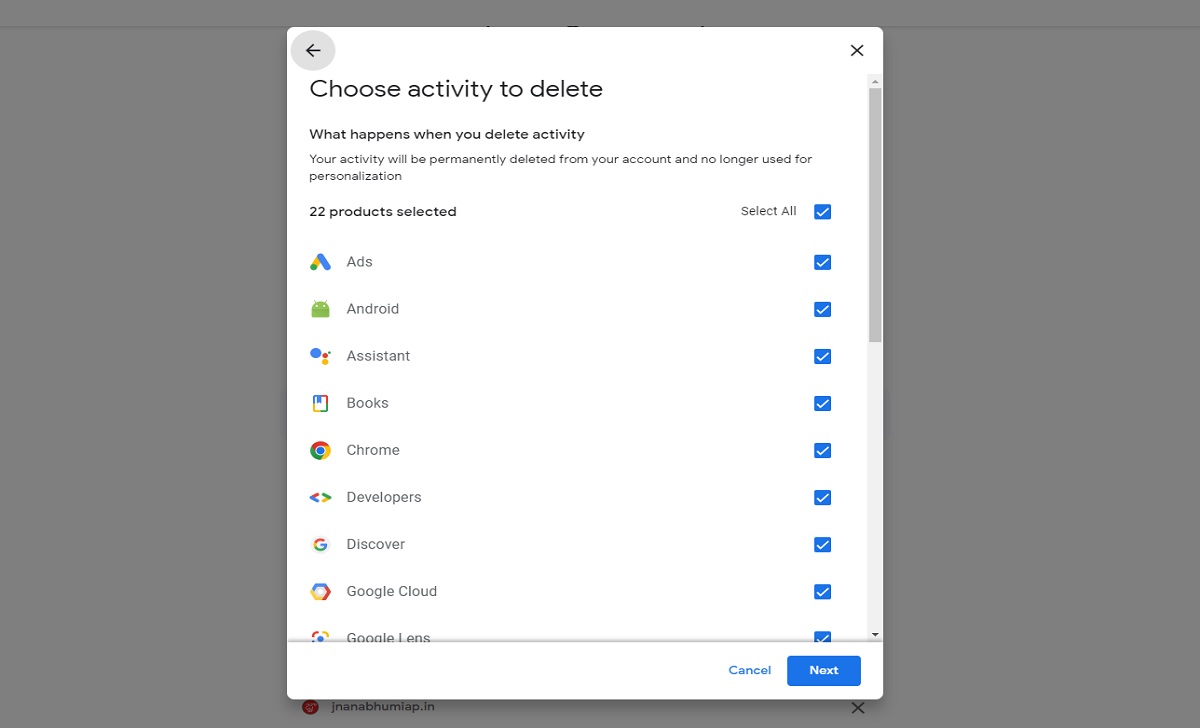 How to Clear/Delete My Activity Google History
Open 'Google Chrome' on Desktop PC or Laptop and any smartphone (Android or iPhone) device.
Sign in to your 'Google Account' no need to do so already.
Click on the nine dots in the upper right corner of the screen.
Click on your 'Account' from the Google Apps that appears.
Now you have reached the 'Google My Activity' page and the direct link is here https://myactivity.google.com/myactivity.
From the menu options on the left hand side, select "Data & Privacy".
Scroll down the screen and select "My Activity" under "Activity and Timeline"
Here you will find a list of all your 'My Google Activity'
To find specific activities, use the search box or filter options.
To delete an activity, click the three dots to the right of the activity and select "Delete".
If you want to delete all your activity, select "Delete activity by" from the left option.
Select the date range for which you want to delete the activity.
You can select "All Time" to erase everything.
Click on "Delete" and confirm that you want to delete your activity.
Now your Google history is cleared.
How to Delete My Google Activity Automatically
Open 'Google Chrome' on any device.
Sign in to your 'Google account'
Select "Google Account" profile to delete your activity.
From the left-hand menu options, select "Data & Privacy".
Select "Web and app activity" under the "History settings" list.
Here there is "Auto-delete activity" option, click on it.
Select whether you want your activity data to be deleted for 'Google History Delete'.
You have a choice of 3 months, 18 months or 36 months.
Click "Next" to confirm your selection.
Now you can select either Maps or YouTube history and clear it.