AP 10th Class FA1 Model Paper 2024 , AP SSC FA1 Model Question Paper 2024 Pdf Download for TM, EM & UM Students. BSEAP 10th Sample Question Paper 2024, Download SCERT AP 10th Class FA-1 Question Paper 2024 for Paper-1 & Paper-2 Exam Chapter by Chapter for all Topics at https://www.bse.ap.gov.in…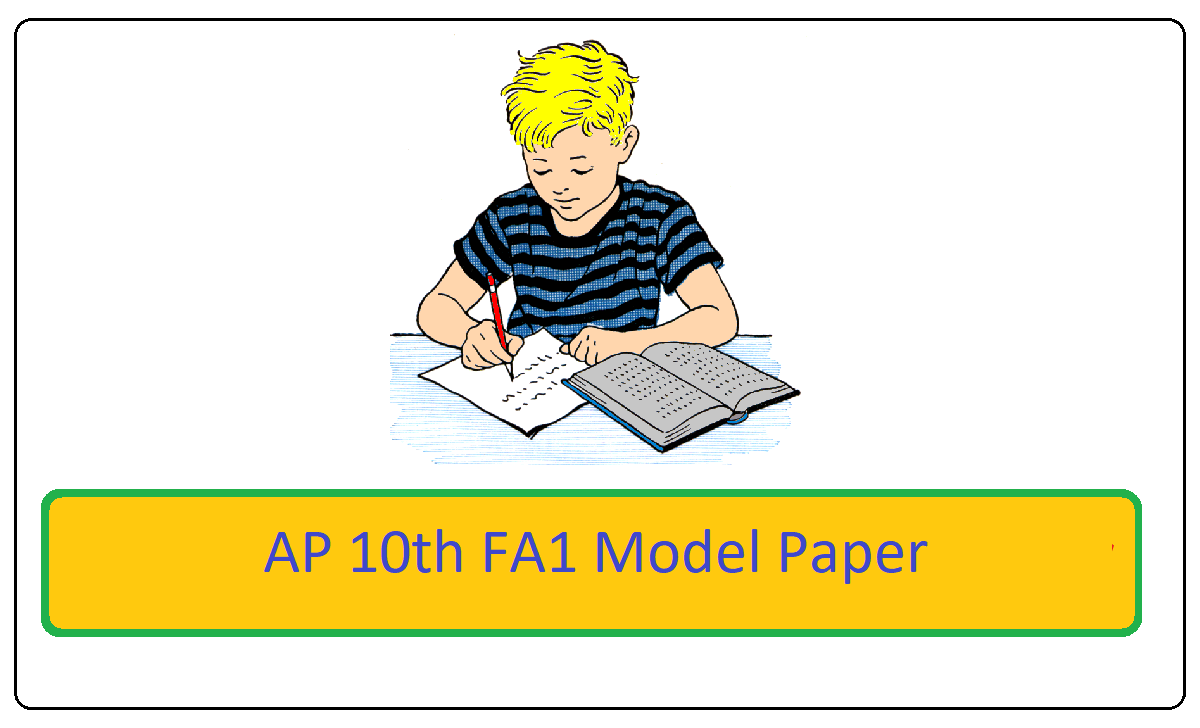 BSEAP SSC FA1 Model Paper 2024
APSCERT 10th Class F1 Question Paper 2024
Name of the Board & Organization
Board of Secondary Education, Andhra Pradesh abbreviated BSEAP also known as Directorate of Government Examinations, Andhra Pradesh
Supported Schools
State Government & Private Schools of SCERT & NCERT
Level or Grade of the Course
10th Class / Secondary Education
Study Material for the Exam Formats
Term1 ( FA1 and Assignments)
Official language of Medium
Telugu & English
Format of the Questions
Reflex
NoteBook (Class Work)
Project Work
Slip Test
Syllabus
Updated Version of Newly Revised Syllabus & Curriculum.
Official Websites
www.bse.ap.gov.in
Exam Date
DGE's office conducts SSC / OSSC Examinations twice in a year. One is the Main Examination in March month and another is Supplementary Examinations May / June months.
BSEAP SSC FA1 Question Paper 2024, AP 10th FA1 Model Question Paper 2024 (*Latest) Pdf Download
| | |
| --- | --- |
| 1ST LANGUAGE (TELUGU) | DOWNLOAD |
| 1ST LANGUAGE PAPER – I (COMPOSITE TELUGU) | DOWNLOAD |
| 1ST LANGUAGE PAPER – II (COMPOSITE SANSKRIT) | DOWNLOAD |
| 2ND LANGUAGE ( TELUGU) | DOWNLOAD |
| 2ND LANGUAGE ( HINDI) | DOWNLOAD |
| 3RD LANGUAGE PAPER – I & II ( ENGLISH) | DOWNLOAD |
| MATHEMATICS PAPER – I & II (ENGLISH – MEDIUM) | DOWNLOAD |
| MATHEMATICS PAPER – I & II (TELUGU – MEDIUM) | DOWNLOAD |
| GENERAL SCIENCE PAPER – I & II (ENGLISH – MEDIUM) | DOWNLOAD |
| GENERAL SCIENCE PAPER – I & II (TELUGU – MEDIUM) | DOWNLOAD |
| SOCIAL PAPER – I & II (ENGLISH – MEDIUM) | DOWNLOAD |
| SOCIAL PAPER – I & II (TELUGU – MEDIUM) | DOWNLOAD |